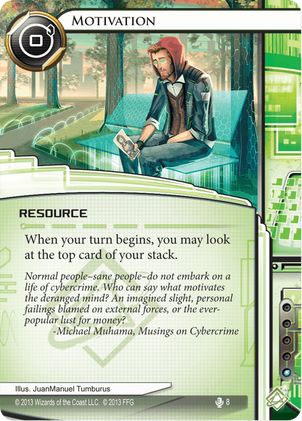 Exile is a "streethawk", a fancy name for a runner without a Personal Workshop or even a Crash Space. He uses the refuse other runners leave behind - and the contents of cyberheaps, dumpsters and thriftstores - to stay in the game. Some say he is a ristie who fell from grace, others that he is a self-taught streetkid. Either way, he's earned his place amongst the Shaper faction for his sheer ingenuity, and living on the streets gives him an edge in links that others lack.[citation needed]
Exile is a natural, without cybernetic enhancement.
Exile uses Ice Analyzers to source his programs, and he frequently Scavenges old programs to make new ones.
The Netrunner card Motivation depicts Exile sitting on a park bench, looking sadly at a picture, hinting that he has tragic motivations for running. One theory is the girl in the picture is Caprice Nisei, implying Exile may in fact be Daniel.
"I can make this work"[1]
"If you know the source code you can write to beat it, or just rejigger it a little and make it yours. That works, too." [citation needed]
Appearances
Edit
Android: Netrunner

Creation and Control deluxe expansion, card 30, "Exile"
Spin Cycle, card 8, "Motivation"
References
Edit
↑ Android: Netrunner, Creation and Control deluxe expansion, card 30, "Exile"
Ad blocker interference detected!
Wikia is a free-to-use site that makes money from advertising. We have a modified experience for viewers using ad blockers

Wikia is not accessible if you've made further modifications. Remove the custom ad blocker rule(s) and the page will load as expected.