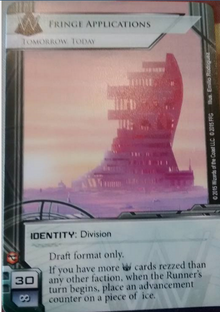 Fringe Applications is a division of Weyland Consortium that is tasked with finding alternate means of leveraging existing corporate assets. It is unsure exactly how, but they have found a way to commercialize highly-upgraded network defences. Their slogan is "Tomorrow Today".
The Division of Fringe Applications' revenue increased 37% year-over-year after corporate discovered that most of their projects made really fun toys.
Ad blocker interference detected!
Wikia is a free-to-use site that makes money from advertising. We have a modified experience for viewers using ad blockers

Wikia is not accessible if you've made further modifications. Remove the custom ad blocker rule(s) and the page will load as expected.