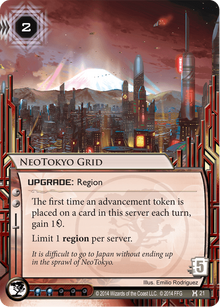 NeoTokyo, still colloquially referred to by its old name of Tokyo, is the capital of Japan. While Jinteki's HQ has since moved from this city to New Angeles, the megacorporation continues to enjoy influence over the region.
It is the home to NeoTokyo Daigaku, a world-class university and rival to Levy University in New Angeles and UCBB in SanSan.
It is difficult to go to Japan without ending up in the sprawl of NeoTokyo.
Ad blocker interference detected!
Wikia is a free-to-use site that makes money from advertising. We have a modified experience for viewers using ad blockers

Wikia is not accessible if you've made further modifications. Remove the custom ad blocker rule(s) and the page will load as expected.